Throughout the month of August 2018, BUFU created the Eyedream Residency within the collective's year-long residency at Eyebeam. Inspired by the question, "what would we need to feel supported by a residency program?" and driven by the aim of leveraging BUFU's institutional access to redistribute resources, the Eyedream Residency invited engaged artists, creators, healers, storytellers, technologists, organizers, and "other lit ass people" to develop projects under the theme "solidarity is possible, but not inevitable." Divided into four weeklong incubators, 18 residents were given stipends and invited to work solo or collectively with access to shared workspace, 3D printing technology, Adobe Creative Suite, and hard and soft skillshares around organizing, facilitation, and technology. Each week concluded in a weekend of free public programming, exhibitions, performances, and turn-ups highlighting the residents' projects. Participants were also invited to exhibit work at BUFU's month-long SOLIDARITY IS POSSIBLE BUT NOT INEVITABLE exhibition at Abrons Arts Center.
THE EYEDREAM Cohort:
Week 1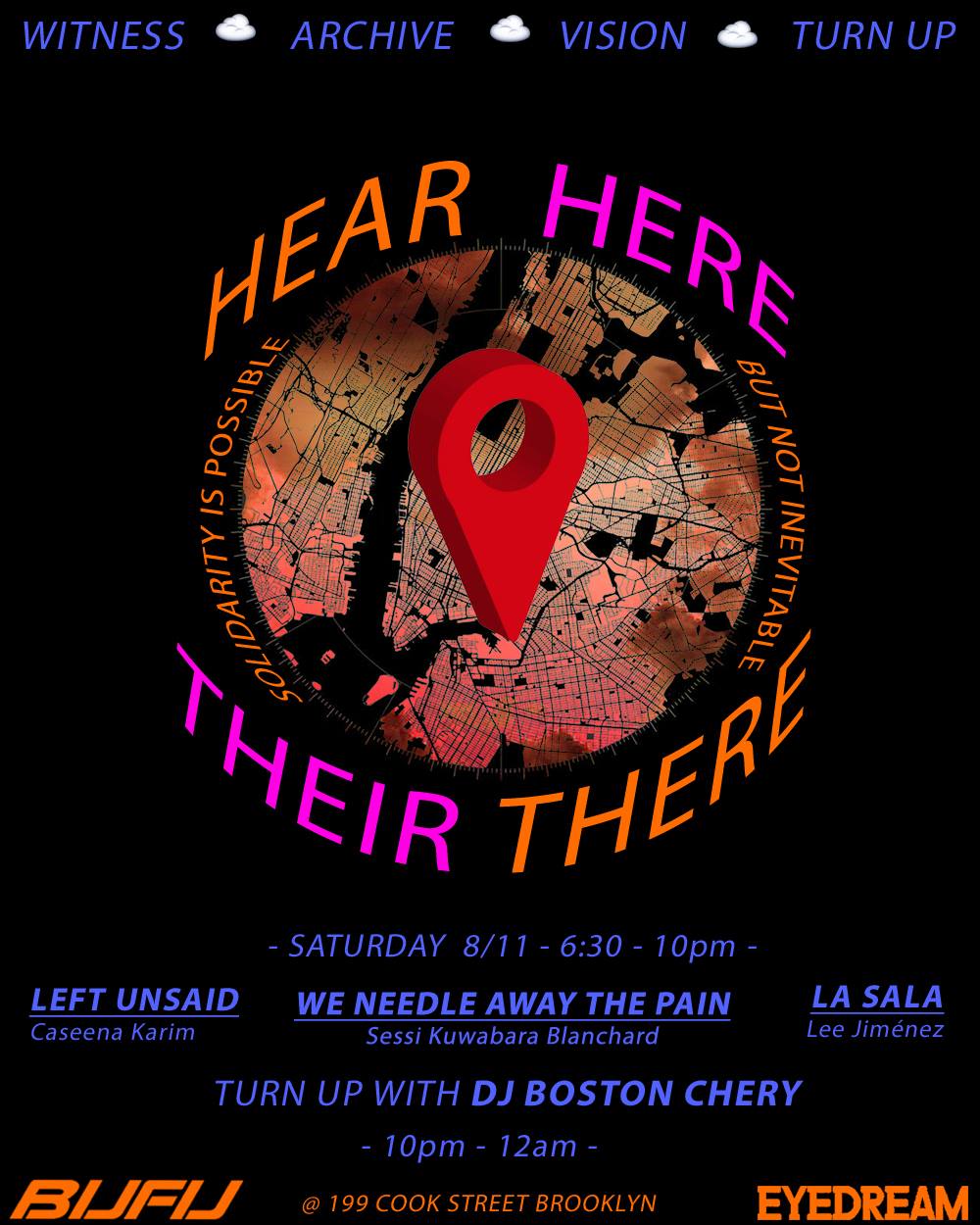 * Witness * Turn Up * Archive * Vision *
☁️☁️☁️☁️☁️☁️☁️☁️☁️☁️☁️☁️☁️☁️☁️☁️☁️☁️☁️☁️☁️☁️☁️☁️
Honoring NYC
those before us
us now
those who will come
☁️☁️☁️☁️☁️☁️☁️☁️☁️☁️☁️☁️☁️☁️☁️☁️☁️☁️☁️☁️☁️☁️☁️☁️
INSTALLATION // WORKSHOP // OPEN SPACE
With Eyedream Residents Cohort 1
Caseena Karim // Lee Jiménez // Sessi Kuwabara Blanchard
6:30PM - 10:00PM

Performances by Vüdü, Gumby, and India Berry
& TURN UP
DJ Boston Chery
10:00PM - 12:00AM
☁️☁️☁️☁️☁️☁️☁️☁️☁️☁️☁️☁️☁️☁️☁️☁️☁️☁️☁️☁️☁️☁️☁️☁️
"Spi(Cy-Fi)lms: Left Unsaid" with Caseena Karim in collaboration with Sailor Noom/Sahar Sepahdari, Tsige Tafesse, Vera Tineo, and our loved ones
An installation🔥🔥🔥
In collaboration with QTPOC/NYC Natives, Left Unsaid features videos that de-constructs and rethink our relationship to surveillance and oppressive technology. Surveillance, Islam, gentrification, queerness, micro-aggressions, and systemic violence are the conversations that are "Left Unsaid."


"Taking Place, Holding Space with the Young Lords" with Sessi Kuwabara Blanchard
A discussion//installation🔥🔥🔥
A preliminary copy of the zine, "Taking Place, Holding Space: How The Young Lords Transformed The "Butcher Shop" Into The "People's Hospital"" will launch hopefully alongside a recorded interview with an original member of the Black Panthers and Young Lords, Cleo Silvers. Wandering, reading, and conversing is encouraged as Cleo remotely fills the Eyebeam space with dispatches from struggle in the South Bronx.


"La Sala" with Lee Jimenez
An open space🔥🔥🔥
a space centering Queer, Trans, and Gender Non-conforming Black and Brown folks to heal, grow, and un/learn through collective visioning. The focus of the conversation will be around what organizing and building with folks in/from the hood can look like, and the ways we cause harm by leaving those who don't know the same social justice lingo/spaces/theories, behind.


As apart of BUFU's EYEDREAM Residency "Solidarity is Possible but not Inevitable" for more information bufubyusforus.com/eyedream

COME THRU & TELL A FREE
Donations at door to support EYEDREAM but v v free

Off the Morgan Ave L & Flushing Ave J
***wheelchair accessible***
How does the phrase "Solidarity is Possible, but not Inevitable." resonate with you?
Solidarity is possible but it is not certain, especially if you have a multi-faceted identity or one that is not represented at all. As a Muslim and queer woman of color, I often found myself choosing between my identities in order to be accepted. Although there were some spaces that were inclusive of my identity, my anxiety/depression stopped me from going out and seeking them. There are so many different ways to find and build solidarity, but maintaining it is difficult, it takes emotional and physical labor from all parties involved. I see solidarity as a form of self-care, and much like happiness, it is something that you need to be dedicated too, and be intentional in creating lasting bonds with those that are involved. There are so many oppressive forces working against the betterment of marginalized people, that solidarity is hard to achieve due to divisions created within our communities by the colonizer mentality to deflect blame and trauma while maintaining white power. I often think about why it is so hard, even within our own circles, to create these long-lasting bonds. However, I have come to realization that it is because we are meant to think of ourselves as individuals before a community, and un-learning that is a process itself for each person. I work to create solidarity that is inclusive of the LGBTQIA community, NYC natives, Muslim people, and people of color because I know that solidarity is not guaranteed for many QTPOC. I should not have to feel like my queer identity conflicts with my ability to express my Muslim or racial identity and vice versa. We cannot expect that change will happen, and that the world will become more inclusive in a country that was founded on white supremacy and dividing our communities. "They pushed us into corners so we made space," is a phrase I have used within exhibitions and works of mine, and I strongly believe that we have to make space for ourselves because there is simply no other option. Solidarity creates a moment of peace within all of the trauma, and like happiness, it is not given. My art practice is creating collaborative projects with QTPOC; an outstretched hand to my community, and it motivates me to continue to fight to create solidarity not only for myself but for those who do not fit into traditional norms of (white) queerness and inclusive of all people of color. In order to do this, I have to engage in open conversations with people and create new structures that foster group solidarity as opposed to individual power. As well, recognizing that solidarity is not built by just one person, but by the actions of many. I'd like to think of solidarity more like Patricia Collins in Black Feminist Thought, where every narrative is equally important to the community not just those society deems valid.
Project Proposal
Spi(Cy-Fi)lms is a series of responsive and cross-disciplinary 4D works and discussions created by Cy-Fi (Caseena Karim). This series is an outstretched hand from Cy-Fi to create solidarity between NYC natives/Queer and Trans People of Color (QTPOC) artists through 4D mediums and New Media through the lens of performance. For the week of residency I would love to work on collaborative video performance pieces that are a continuation of the video and event series Spi(Cy-Fi)lms, and have a film screening/performances of works by NYC Native/QTPOC 4D artists who are using media and technology to create solidarity and representation for marginalized identities. I would like to have a discussion at the end of the event surrounding ways in which we can use video/film/performance/music to build solidarity through visions of what freedom would look like, and how to make it tangible. How can we strive towards freedom without imagining how it would look? Discussion topics would include: accessibility to video art, how the artists found their niche within new media, and the different intersections happening within contemporary art, music and performance. I believe working with the community at Eyebeam would be beneficial due to BUFU's focus on video/4D media as a form of resistance, as well as technical skills that I would love to work on: nonlinear editing, coding, curating events.
There has been a movement of QTPOC artists merging 4D mediums to express multifaceted identities. Nevertheless, there are still clear divisions between the language and spaces that define technology, film, video, performance, animation, music, etc. Language and divisions used to define sexuality and gender work counter-intuitively as well. Sexuality and gender are not static and much like technology and New Media, are in constant flux. The proposed project is a growth and expansion of the first series of Spi(Cy- Fi)lms: Series 1: Left Unsaid, three 4D works by Cy-Fi in collaboration with QTPOC/NYC Natives that de-construct and re-work pervasive language used by systems of oppression to divide, erase, and silence marginalized communities and artists. Each work will collage multiple 4D mediums through layering and nonlinear editing, to represent a multi- faceted 4D work in flux, reflecting intersectional and fluid identities. Surveillance, Islam, gentrification, queerness, micro-aggressions, and systemic violence are the conversations that are "Left Unsaid." This language will be re-constructed through editing and expanding these three works to re-construct performative imagined spaces in which QTPOC have dynamic and flexible narratives. The collaboration with other NYC Native/QTPOC Artists, along with an event where these works are screened/ performed will allow for tangible solidarity and resolve through discussion and active participation. These works will eventually be hosted on an interactive, online video performance series in collaboration with Anna Feng; that will also be a source for those who do not feel comfortable in the event space, and prefer to communicate via the internet, a virtual space that is responsive and accessible.
The three 4D works by Cy-Fi, "Except Me," begin with Cy-Fi's individual struggle being muslim and silenced through media. This piece combines video, performance and music, using different forms of filming to represent this fragmentation. The series continues with "Boxing," a video performance piece that introduces a second personal narrative of Sid, and speaks about surveillance, gentrification, and love. This piece will merge fashion, hand drawn animation, "TinkerYonder" an open source software, and film to represent the radical potential of darkness and imagined space. The last 4D work, "Left Unsaid" is a live video performance compiling multiple interviews conducted by Cy-Fi of QTPOC/NYC Natives who deal with microaggressions. An initial year long prototype, Spi(Cy-Fi)lms: Series 1 was hosted by BronxArtSpace as part of free programming for the exhibition "For Us." This included a film screening, video performances, music performances, and QTPOC artists and performers that challenge New Media Art.
For the residency I would like to continue my work by creating collaborative videos with QTPOC and loved ones who are not living in NYC with me, in relation to surveillance, specifically the NYPD surveillance in my neighborhood. I would like to question the ways in which technology is utilized to oppress us, and ways that we can reclaim the same technologies to build solidarity. By creating video performance pieces with those who are not physically here with me, I am able to use technology to build solidarity to discuss topics that may not have come up in normal conversation. I want to show that 4D mediums can be used as a form of resistance. As well, I use different lenses (GoPro, screen recording, animation, DSLRs) in order to represent different perspectives, but also to challenge the notion that you need a college education or expensive equipment to make meaningful work. The people that I would collaborate with come from film production and art school backgrounds, but also include those who have not had the opportunity to receive arts educations. The work I am proposing would be in collaboration with other QTPOC artists within and outside of NYC and the process will be just as important to the event taking place at the end of the week long incubator. I would be honored to be a part of this residency and really appreciate the consideration.
Links to works mentioned (Spicy-Films: Series 1: Left Unsaid)
Except Me: https://vimeo.com/268920728 and https://vimeo.com/268920664
Boxing: https://vimeo.com/264915498
Left Unsaid: https://vimeo.com/264914894 performance documentation: https://vimeo.com/247264095
Film reel: https://vimeo.com/275179302
Sites: www.cravemorebk.com and http://spicy-films.com (under construction)
How does the phrase "Solidarity is Possible, but not Inevitable." resonate with you?
"This phrase reminds me that solidarity, like love, is an action. It is something we have to constantly make the choice to do. While we can envision and theorize around what solidarity looks and feels like, it means nothing without listening to multiple truths and experiences. We cannot expect solidarity to magically happen in the name of love and community. We must listen, be willing to un/learn certain behaviors, be accountable, and act accordingly - even if it is uncomfortable."
Project Proposal
"If given the opportunity to be a resident, I'd love to build upon a vision I have called La Sala (translation: The Living Room). La Sala would provide a space for Queer, Trans, and Gender Non-conforming Black and Brown folks to heal, grow, and un/learn through collective visioning. Long term, I'd love La Sala sessions to be a series of various events (i.e. parties, workshops, healing circles, emergent strategy sessions, etc.) for Black and Brown QTGNC folks. This would be a collaborative effort, as I am not the gate keeper of any community (even the ones I belong to). Although this is a long term vision for me, for this residency I'm interested in building solidarity with folks from the hood by co-visioning/creating a sala session around what organizing and building with folks in/from the hood can look like, and the ways we cause harm by leaving those who don't know the same social justice lingo/spaces/theories, behind."
How does the phrase "Solidarity is Possible, but not Inevitable." resonate with you?
Solidarity has to be uncomfortable. If it feels easy, it means that the labor of building collaborative power across difference is being displaced onto others. Solidarity is not inevitable because the capitalist and anti-black mode of social relations are engineered to prevent such a viral blossom. I am committed to pursuing the possibility of solidarity because it is the only sustainable way to live and be with others. While our individual lives may be able to continue while remaining ignorant and isolated, our communities and worlds will surely perish without the intention to foster collectivized intimacy and care.
Project Proposal
Through coalitional solidarity with the Black Panther Party and Chinese medical practitioners, the Young Lords Party, a radical Puerto Rican liberation organization, adapted acupuncture detoxification protocols to support opium-dependent Black and Brown New Yorkers in the 1970's. With a medical apartheid regime in the Bronx, where communities of color were systematically offered ineffective care, the Young Lords studied the Chinese history and practice of auricular acupuncture (a special technique that uses the ear as a site to treat the entire body), eventually seizing a wing of the corrupt Lincoln Hospital and establishing the acupuncture-based People's Drug Program (later known as Lincoln Detox). Widely unknown, the Young Lords developed the Lincoln Protocols, an acupuncture care plan that is still used today to treat addiction.
I have already researched and written a detailed history of acupuncture detoxification and the Young Lords radical organizing around it. As an Eyedream Resident, I would adapt this critical history for a general audience, making accessible a subaltern story of innovation and resistance. As both a writer and artist, I want to craft an illustrated web+print zine entitled, "We Needle Away The Pain: The Young Lords Resisting Medical Racism through Acupuncture." It will detail the history of acupuncture detoxification and its transnational connections, the Young Lords community health organizing through the Lincoln Detox program, and the continued legacy of their contributions. Acupuncturist and herbalist Julia Bennett of Brooklyn's Third Root was trained by the Young Lords and is guided by their radical politics. I know Julia and I would also like to interview her and include her voice in the zine as a way to frame the narrative.
You can find my (albeit academic) essay from which I will draw for the zine by following this link: https://docs.google.com/document/d/1ZfHGU8Ww7OmDkrbTakXCx5qhYyGXDh2zrguqO8yesxI/edit?usp=sharing
ASCENDENCE
DESCENDANTS
TRANSCEN(DANCE)
A night activating our relationship
to lineage
to earth
to vision
to us
☁️☁️☁️☁️☁️☁️☁️☁️☁️☁️☁️☁️☁️☁️☁️☁️☁️☁️☁️☁️☁️☁️☁️
MOVEMENTS // INSTALLATIONS // SOUND // SCULPTURE
With Eyedream Residents Cohort 2
Rigoberto Lara Guzman // Ari Melenciano // Malcom X Betts // Gisela Zuniga
5:00PM - 10:00PM

After Party
10:00PM - LATE
☁️☁️☁️☁️☁️☁️☁️☁️☁️☁️☁️☁️☁️☁️☁️☁️☁️☁️☁️☁️☁️☁️☁️


"El Museo de Afrotopolis" - Ari Melenciano
a speculative convening practicing futurism while in the future. No racism, capitalism, now what?
🔥🔥🔥

"Up/Rooted, Re/Growth" - Gisela Zuniga
investigates is in interactive mixed media installation investigating the memories the memories of the landscape and natural world in the lower Rio Grande Valley in South Texas, as environmental pollution and increasing militarization change what Home looks and feels like.
🔥🔥🔥

Midnight Glow: Black Breathe / Black Noise" - Malcom X Betts
a call to action for the necessity for breathing while Black, the complexity within Blackness and deconstructing the violence against Black bodies that we have to attend to in this world. This is also an exploration of labor, love, time travel, Black joy, the mundane, the conjuring that may or may not arise during duration.
🔥🔥🔥

"TIERRA: A Reclamation" - Rigoberto Lara Guzman
a site specific performance that explores practices of reciprocity, communal labor, and proximity between black & brown bodies. Tierra is about the dirt we leave behind and the seeds we sow when we cede.

🔥🔥🔥

Alaïa's Lab - Ari Melanciano
a living breathing interactive exhibition that continuously deconstructs and constructs Black culture via sounds and new media.
🔥🔥🔥

As apart of BUFU's EYEDREAM Residency "Solidarity is Possible but not Inevitable" for more information bufubyusforus.com/eyedream

COME THRU & TELL A FREE
Donations at door to support EYEDREAM but v v free

Off the Morgan Ave L & Flushing Ave J
***wheelchair accessible***
How does the phrase "Solidarity is Possible, but not Inevitable." resonate with you?
To me, it means that there is a united future before us if we come together to strategically work for it. I full-heartedly believe this. A lot of my recent research is exploring geo-political activism strategies, carceral capitalism, societal structures and uses of technology in forms of empowerment and political engagement. These different research areas are allowing me to explore the possibilities of developing a true Power to The People revolution theory.
Project Proposal
Throughout the week, I would like to host a series of small-scale events that allow us to explore our human experience through a series of different lenses (Black feminism, Blackness, . The small-scale events I'd host in the space would include Alaïa's Lab (an audiovisual performance in the form of a VJ and DJ set - that uses sounds and visuals to explore the construction and deconstruction of Blackness), El Museo de Afrotopolis (a speculative lunch/dinner exploring utopic futures within Black society), and a Digital Activism Workshop (showcasing my digital activism projects and teaching skills for participants to explore their own forms of digital activism)
How does the phrase "Solidarity is Possible, but not Inevitable." resonate with you?
This phrase emphasizes how connection and collaboration both within and between communities isn't guaranteed. These connections have to be explored, nurtured, cultivated, and maintained over time, and must grow as dynamically and specifically as the people in these communities grow up and change and deal with different things. Yet, the word "possible" also promises the chance that it can indeed be achieved, despite the many obstacles internal and external it can take to get there.
Project Proposal
I'd like to make a prototype for a VR project exploring time, memory, and community around my hometown in South Texas, by the U.S.-Mexico border. What I would be doing is following the generational history of a family living in the area as they commune and share memories with the local 800-year-old Montezuma Cypress tree majestically watching over the dry desert land. My idea is to think about what this tree may have seen and experienced during its lifetime, as at the time of its birth the land was just borderless, peaceful land. Now, it lives just past the border fence and the Border Patrol know the tree is an important part of the community, and so permit local residents to spend time with it. I want to explore the tree's closeness with one particular matriarchal family, as grandmother, mother, daughter, great granddaughter, and the rest all share a companion in the tree, and as the landscape changes and sours over time (bc of border militarization, historic imperialism, and environmental endangerment), the family's connection to this tree as guardian and family member is challenged.
I hope to make this project using WebVR, a free online tool to sketch out a 3D environment and space. I can also create 3 different scenes with this tool, so I can create a scene in the 1300s, the 1800s, and a scene today.
I want to share this project with the community by having an open discussion about the connections marginalized communities have with nature and spirituality, what that can mean in today's violent and heavily militarized world, as well as what we as individuals can do to educate, increase awareness, and execute actions to help the most vulnerable among us to cruel immigration policies. I also hope to invite members of the Rio Grande Valley that now live in NYC to this talk, so we can talk about what home means in this context, as well as share this project with my community back home, as their accessibility and input are crucial and really important to me personally. I want to honor one unique story, a blend of documentary and fiction, of my beloved hometown.
How does the phrase "Solidarity is Possible, but not Inevitable." resonate with you?
The phrase resonates with me because solidarity has been a mode of survival for me. I gain most fulfillment when I'm connecting/sharing with other artist especially artist of color. There are not many spaces where POC can thrive, create, manifest and transform. My artistic practice is heavily rooted in the idea of collective gathering, growing a collective body for transformation and how I use movement performance to liberate the body of oppressive structures. Moments in being in solidarity has taught me so much about myself.
Project Proposal
Midnight Glow is a continuum from Black Bodies Gone Down with this new work I'm looking to dive more specific around identity by linking historical places and embodiment to ancestral forms that happen during performance, unlocking cultural knowledge through embodiment practice and collective gathering informing embodiment to reach transcendence. Midnight Glow is part meditation, part queer gestures for activating performance I'm interested in creating a utopia where my queer identity can sustain itself in reality and beyond. Also interested in using human pleasure and sensation to deconstruct queerness. This is also an investigation of intimate relationships, the boundaries within relationships and the desires being a queer being.
after spending time at the Abyssinian Meeting House and researching the Freedom Trial in Portland, Maine during my residency (Living Room Space) of Spring 2018 and performing Black Bodies Gone Down. Which included a mediation walk from downtown Portland to South Porland tracing my own freedom trail, and then sections Freedom and Homecoming, I'm interested in the contemporary effects of slavery on African Americans of the land (in real time), a call of action for the dismantle of systems directly facing Black people and historical African American landmarks being spaces to often find refuge, belonging and experiencing Black joy.
A lot of my artistic practices live through the lens of Afrofuturism. How am I thinking of futurist strategies centered around my Black identity making room for other Black people to find liberation while also addressing past/present events to shift the narrative. There is also a history of my work taking the audience out of traditional performance spaces.
This new body of work is also inspired by the life of my uncle who was also queer and had passed away from complications of HIV/AIDS. I reflect on his passing how legacy and knowledge was lost.
I'm looking to perform this as a 60 minute piece.
How does the phrase "Solidarity is Possible, but not Inevitable." resonate with you?

Sol i dar i dad — (to quote poet Cecilia Vicuña) — es el dar sol, to give light.

The phrase 'doing the work' comes to mind and how to throw down we must first feel implicated (entwined) in another's struggle. There has to be a yearning for it, a genuine stirring to be liberated together. Action derived from a sincere belief in interdependence. If you ain't free I ain't free.

Application without implication feels hollow. The organizer, the facilitator, the healer fill in the space between Possible and Inevitable. Doing the work means realizing your own capacity to lead, to create, to realize radical change. Solidarity can be iterative, spacious and decentralized. It can also be temporary. When a momentous act of solidarity arises folks are like damn where that come from? Years of quiet iterating and implicating, of giving light.


Project Proposal

I am a 1st generation immigrant vato born in Mexico and raised in Northern Califas, Bay Area, a chicanx cyberpunk with permanent legal status, an organizer, a social sculptor, a fertilizer of ideas, a rascuache theorist investigating community building as a formal art practice and meaningful gathering as ceremony.

What is Chicanx Pessimism and how can we use it to activate the body? I will use my Eyedream residency to begin speculating with this question, bringing in the work of Afro Pessimist thinkers to frame an anti-racist analysis of immigration and its core component LABOR, in particular brown / migrant labor.

What are we left with if we remove the optimistic arrival myth (aka the American Dream) from our nostalgic migration narratives?

I want to start a dialogue with Filipinx & (Afro) Latinx / Chicanx artists theorizing the body as a site of renunciation and reclamation. Through performance we can unearth legacies of mestizaje and strategies for reclaiming away from a "possessive investment in whiteness" (Lipsitz) and towards an honest acknowledgement of anti blackness in our communities.

Since coming back to the US from Mexico I have been building with other Chicanx artists, trying to engage a somewhat scattered community here in the city via cultural and nightlife organizing mainly at the urban garden space I run in Sunset Park. I believe there is no better antidote to cyber fatigue than working the land. So, as a way to return to an embodied creative practice I will prototype a performance workshop using radical play to explore the limitations, potentialities and contradictions of decolonizing the brown body. We will move from an investigation of our collective precarity into an activation of collective empowerment in the form of a fearless performance showcase.
PATCHWERK: Unraveling Memory, Ritual, & Resistance
PATCHWERK
☁️☁️☁️☁️☁️☁️☁️☁️☁️☁️☁️☁️☁️☁️☁️☁️☁️☁️☁️☁️☁️☁️☁️☁️
Unraveling Memory, Ritual, & Resistance
☁️☁️☁️☁️☁️☁️☁️☁️☁️☁️☁️☁️☁️☁️☁️☁️☁️☁️☁️☁️☁️☁️☁️☁️
@@@ Babycastles
☁️☁️☁️☁️☁️☁️☁️☁️☁️☁️☁️☁️☁️☁️☁️☁️☁️☁️☁️☁️☁️☁️☁️☁️
INSTALLATION // WORKSHOP // OPEN SPACE
With Eyedream Residents Cohort 3
Allison Chan, Anisa Jackson, Amber Officer-Narvasa and Jasmine Nyende
1PM - 4PM
☁️☁️☁️☁️☁️☁️☁️☁️☁️☁️☁️☁️☁️☁️☁️☁️☁️☁️☁️☁️☁️☁️☁️☁️

"(RE)COLLECTION" - Allison Chan & Anisa Jackson
An interactive Installation that explores archive and memory through oral history and somatic practice
🔥🔥🔥

"KNITTA PLEASE" - Jasmine Nyende
An installation and video about the process of crocheting, and DIY skill share focused on the Black queer self
🔥🔥🔥

"THRU THE FLOOR" -Amber Officer-Narvasa
A hypertext game about gentrification, loss, and the erotics of place
🔥🔥🔥

"WHAT IS YOUR REMEMBERING SOUND LIKE?" -Amber Officer-Narvasa
An installation exploring the sounds of ritual + Black ancestral memory
🔥🔥🔥

☁️☁️☁️☁️☁️☁️☁️☁️☁️☁️☁️☁️☁️☁️☁️☁️☁️☁️☁️☁️☁️☁️☁️☁️
As apart of BUFU's EYEDREAM Residency "Solidarity is Possible but not Inevitable" for more information bufubyusforus.com/eyedream

COME THRU & TELL A FREE
Donations at door to support EYEDREAM but v v free

Off the 1, 2, and 3 at 14th St
L at 8 Av or 6 Av
F,M at 14th St
How does the phrase "Solidarity is Possible, but not Inevitable." resonate with you?
It means a connection between people can be fostered and nurtured but only if both sides are willing. It's not always guaranteed the other side of the bond will accept or give back the energy but the possibility of it keeps us going.
Project Proposal
I am a musician, artist and writer from Los Angeles CA but going to be in NY for two weeks in August for Afropunk with my band FUCK U PAY US. When we get back to LA, I want to start planning and hosting more events centered on Black queer femmes.
A friend and I work out of a studio in Koreatown and plan to open it up to the community this Fall. At the residency, I hope to learn more about facilitating space, creating sick ass flyers and promo videos, and work with other creatives to think critically about my role as an artist in Los Angeles. I hope to start a POC femmes only fibers group, where we knit crochet and loom together.
It can be so healing to have a stitching group (I was president of my high school knitting club lol) and to focus on queer POC in the white washed fibers scene means allowing more visibility to our crafts. I hope to develop any understanding of group organizing and bring those skills to my communities of FUPU, Qu (the studio space in Koreatown), and JusticeLA, an grassroots coalition dedicated to ending mass incarceration in Los Angeles.
I planned the music and stage for the JusticeLa Block Party last summer to spread awareness for the organization and now we are planning around ICE shut downs and sit ins. I am the type of person that wants to do everything! And spread that limitless throughout the city I was born and raised in, to show what a queer Black girl from Compton can do with confidence and support. I love what BUFU is doing and would be honored to learn from your collective how to be a facilitator of space in for my people.

How does the phrase "Solidarity is Possible, but not Inevitable." resonate with you?
The phrase "Solidarity is Possible, but not Inevitable" reminds me that in a world structured by anti-Blackness, solidarity is never guaranteed. This phrase reminds me of all the forces keeping us atomized, separated, working continuously from a place of scarcity and fear. This phrase reminds me of the work of the Black Panthers, the Yellow Peril, and the Brown Berets, all the flawed and messy and utopian ways that Black and brown people continue to build and create worlds together. This phrase reminds me of all the ways "allies" have failed me as a Black person, and all the ways I have learned to love myself and others in the face of these failures. When I read this phrase, I think of all the times solidarity has turned out to be an empty promise, and all the times that I have been shocked and humbled by how my people keep each other alive, every day.
Project Proposal

For this weeklong dream session, I'd like to conduct a series of workshops, skillshares, and turn-ups around the topic of SOUND. What does freedom sound like to you, to me, to we? What are some sounds for sharing, for loving? For all the ways we want to touch and be touched? What lessons can we learn from the decentralized, inventive praxis of the playlist? Can sharing sound be a practice of love and solidarity, at a time when the sounds of Black and brown communities face constant exploitation and erasure?
My multimedia inquiry into the sonic will be deeply informed by my perspective as a Black New Yorker. As someone who has witnessed the effects of gentrification and police violence in my communities, I know that the sounds we make, the sounds we are allowed to enjoy, are deeply contested and political. In 2012, a Black teenager in Florida named Jordan Davis was killed by a white man who claimed that Davis's music was "too loud." The white people who move into my historically Black neighborhood routinely complain about their neighbors' booming sound systems and raucous summer barbecues, threatening to complain to their landlords or the police. The sounds of Black and brown life are always in motion. They travel through the streets and airways at unthinkable speed. They change form, evade description, refuse to be pinned down. The hypervisibility and targeting of our music, our celebrations, our noise, is a reminder of all the ways we were never supposed to exist in our bodies, and all the ways we continue to do so anyway.
As an Eyedream fellow, I plan to continue several writing and digital media projects that are related to music, place, and Black ancestral memory. These projects will be co-created with my communities, and facilitated by the week's workshops and programming. I will be working on a hypertext game about voice memos, digital intimacy, and the sonic. I also plan to prototype a multimedia digital game based on gentrification in New York and the impacts it has on the sounds of Black and brown neighborhoods.
As part of my Eyebeam residency, I also plan to hold workshops/collaborative visioning and listening sessions on the topic of sound. The first workshop will be focused on Sounds of the Future. What are the sounds we imagine for our Black+queer+trans+indigenous+disabledutopias? What is the sound of something that hasn't happened yet? What sounds did our ancestors leave us, and how are we still working and learning with those sounds today? We will read selections from work by Dionne Brand, adrienne maree brown, and others to think about the role of sound in the collective practice of futurity.
The second workshop will be focused on personal narratives inspired by the role of sound in participants' lives. Participants will be asked to bring in voice memos, recordings, songs, and other sonic items that they'd like to share. We will read short selections from Phonographies: Grooves in Sonic Afro-Modernity by Alexander Weheliye, Harlem is Nowhere by Sharifa Rhodes-Pitts, and The Sovereignty of Quiet by Kevin Quashie to explore different approaches to writing about race, place, and sound. Participants will share their sonic artifacts with each other and do independent writing activities. At the end, I hope to create a collaborative Dropbox or playlist with different sounds that people have written from and offered to each other.
I also plan to work with local practitioners to hold a series of public discussions and teach-ins about sound as a form of healing and artistry. As an Eyedream resident, I would reach out to organizations which have DJ and music production classes for young people, such as POWRPLNT and Building Beats. Additionally, I would like to collaborate with people who conduct sound healing and meditation sessions, such as those who work at MINKA Brooklyn and other holistic healing sites.
Throughout the week, I would like to hold open hours for musicians and other artists who work with sound. These time slots would be an opportunity for artists to hold short performances or even casual lessons and teach-ins that would be open to the public. These open hours are one more way that I hope to think through the role of sound in our relationships with each other, our environments, and our bodies.
During the time that I spend in the Eyebeam space, the music that I listen to will also be determined by others; I will accept artist and song suggestions through Instagram, and will use these suggestions to create publicly available playlists that I will share online each day.
Danielle Elizabeth Stevens
How does the phrase "Solidarity is Possible, but not Inevitable." resonate with you?
To me it is an important reminder not to take solidarity for granted. Many of us understand the need for solidarity conceptually, yet embodiment of community solidarity in praxis remains elusive. We live in a society that is seizing our connection to our imagination, our visionary potential, or intrinsic desires to explore, discover. Although there are challenges to decolonizing our imagination to access and manifest the expansive possibilities of what solidarity can look/feel/taste/smell/sound, it is absolutely possible and well on its way <3
In a culture working vehemently to render us extinct and to divide and conquer our communities, it is a bold articulation of self//community determination to make the deliberate choice to generate radical collaboration, community interdependence, and heart-centered solidarity on a fundamental level, at the root of the work that we do. I think this quote underscores the need to deepen our collective commitment to both cultivating our understanding of community solidarity and how to embody it with one another in *praxis* – and that therein, lies the actual work of liberation 'work'. Solidarity is not at all inevitable, it will take *work*, but it is well within reach.
Project Proposal
In the world of grassroots campaign work, community organizing, popular education, strategic development, and social justice movement building, it has become increasingly apparent that for many of us, transformative justice, reconciliation, and community healing are praxes for which we have an abundance to learn. The tendency to disregard, shame, drag, dismiss, and dispose that we have come to learn in social justice movement building is fraught with damage and trauma, it forecloses our opportunities to love, understand, relate to, and build with one another in deeper, richer, fuller, and more liberatory ways. It is impossible to cultivate the revolution and freedom that many of us say we are committed to building when we are tearing one another apart in the insidious and heartbreaking ways that have been prevalent in this movement work. We forget that if we seek to manifest structural and systemic change, we must trust that we, as individuals and a community, can collectively embody this same type of growth.
Concurrently, the political climate within which we live makes it so that many of us are experiencing much more woundedness than ever before. We are overloaded with traumatic news reports and plagued with hateful bureaucratic practices that are carefully crafted to undermine our value and worth as human beings. We are both much more hypervigilant and much more sensitive. Being inflicted with this type of psychological warfare is which our humanity is constantly under siege can cause irreversible damage to our mental, emotional, spiritual and psychological health and stability. Many of us feel fragmented and disoriented; numb and apathetic; angry and guarded; hopelessness and terrified.
How do we move ourselves to love, life, and inspiration, when we have been entrenched in a war waged against our very being for centuries? How can we cultivate resilience, hope, and possibility to conjure a new world in a time where we experience so much defeat? How can we reconcile from the harm we have inflicted onto one another – as a symptom of the pain we carry – and dare to be a bit more compassionate, wage a bit more love? What is possible when we surrender the "master's tools" that give way to community destruction and instead discover the blueprints to grant ourselves permission to wage love, compassion, and possibility toward each other and ourselves? How do we prioritize healing, transformation, and restoration toward ourselves and those in our community and build generative and life-affirming processes of resilience for creating and being in community while still being effective agents of change?
During this residency, I would like to work on developing: Waging Love: A Digital Healing and Resiliency Retreat For QTPOC Activists. Waging Love, will exist as an innovative and visionary healing experience designed by and for marginalized people working at the frontlines of change to conjure individual, interpersonal, and collective restoration, refinement, and healing. Presented as a mixed-media, interdisciplinary, comprehensive e-course, Waging Love is lovingly curated as an opportunity for organizations and individuals to engage in a well-designed, cutting edge, and experiential digital learning environment to engage a wide range of healing and resilience strategies. Designed with movement leaders, creatives, and collectives in mind, Waging Love will exist as a series of integrated online video content, webinars, and digital curriculum for individuals and organizations to use to develop conflict resolution strategies, healing justice frameworks, and mental health, restoration, and reconciliation practices. From my perspective as a designer of this project, Waging Love will be a deliberately exploratory, participant-centered, radically collaborative archival experience. I envision creating an experiential learning digital landscape with stunning visuals and sacred digital content carefully curated to stimulate imaginative thought, facilitate deepened emotional clarity, and foster a renewed sense of wonder for participants to bring to their lives and their movement/creative work. In collaboration with community, I will develop curriculum, facilitation, and engagement that situates healing justice as a critical competency area in which participants and leaders can cultivate skills around visionary leadership, creativity and intuition, tenderness and revolutionary care, self and collective healing, restorative and transformative justice, understanding and healing trauma, establishing trust and faith that a new world is possible, and becoming bold and brave architects of that new world. Topics covered in this comprehensive e-course will include but are not limited to: Resilience building strategies for activists to heal from burnout, Effective Sustainable Leadership building through a Healing Justice lens, Developing transformative justice models in your local communities and organizations, Cultivating Radical Collaboration in Praxis, Embracing the Intuitive in a Intellect-Driven World, How to be a Revolutionary Parent to Our Own Inner Child, and much more.
The strategy in exploring the digital landscape to execute this body of (he)artwork lies in this mediums' ability to expand accessibility to a wide range of individuals and organizations, as well as to create a textured and dynamic archive to showcase and build upon the course content for years to come. Through exploring an expansive range of artistic modalities including video, audio, presentation and other forms of digital sensory engagement in creation of this dynamic e-course, Waging Love will create strategies and practices to keep our communities whole, resilient, empowered and focused on moving from a more generative love politic as we carry out social change and community liberation. The digital landscape will also allow us to respond to issues in real-time, and weave a dynamic and expansive tapestry of wisdom that allows users to learn at their own pace in the privacy of their own home.
During my time at the EYEDREAM Residency, I plan to prototype curriculum and content for Waging Love, which will involve video production, script-writing, short and long-term visual project mapping and other digital resource development. Specifically, my goal is to produce at least one pilot video that can be used as Waging Love video content. To share my work with the community, my plan is to weave the screening of the video into the curation of a multimedia healing workshop//healing arts installation that will function as a creative intervention into some of the priorities I named above. Furthermore in order to design through a participatory, community- centered lens, I will create opportunities and facilitate exercises during the workshop that are aimed at gathering information from end-users (workshop participants) on the content they would like to see from this project. <3
Anisa Jackson & Allison Chan
How does the phrase "Solidarity is Possible, but not Inevitable." resonate with you?
Solidarity is essential in our struggle for liberation, and it is an active process that requires constant mediation. As a Black Caribbean & South Asian nonbinary femme and a first-generation East Asian-American femme, we believe solidarity compels us to rethink the term"POC" not as a given monolithic identifier, but instead as an coalitional term. Our social identities are rarely fixed; instead they are complex and contestable positions whose relations to each other are constantly in flux. Solidarity is not something that can simply be claimed or completed, but something that we are always working towards. In thinking about our relationship, as both co-inspirers and friends, we center a feminist ethic of care—that is, the inherently radical and political act of caring about and caring for each other. It is an insistence that honors the ways in which we are relational being and in resistance to the neoliberal tendencies which seek to depoliticize and decontextualize our experiences and emotions. Solidarity is built on these sorts of active and continuous relationships as we create collective imaginaries while always negotiating identity, privilege and responsibility.
Project Proposal
Allison Chan is a transdisciplinary designer, artist, and technologist devoted to moments nexus of identity, vulnerability, belonging, and resilience. Equipped with a background in diaspora studies and postcolonial feminism, her work seeks to explore how we might reimagine our imminent techno-futurist realities towards less harrowing, more liberating horizons.
Anisa Jackson is a critical geographer, artist, writer, and organizer based in Seattle, WA. With a background in geography, Anisa's research-based practice draws on care ethics and black feminist thought. This summer they are coordinating a free critical Black and Ethnic Studies program for high school sophomores in Upstate New York.
Together, we run an art and research project called Meme Girls. Through Meme Girls we explore digital anthropology, the relationships between racial capitalism and online content (i.e. viral videos, memes, etc.), and work towards forming a digital literacy that moves towards uncovering structures of power.
Past collaborations have included the Visualizing Relational Poverty Knowledge panel and workshop at the Seattle Design Festival. This session was an audience-participatory discussion between activists, artists, and designers to engage economic and racial justice through visual, spatial, and structural storytelling. Drawing on relational poverty knowledge, we investigated the festival theme 'Design Change' by conceptualizing how to make visible the often-invisible power relations that produce and reinforce structural inequalities.
For the Eyebeam Residency, we would like to propose a pop up installation, website, podcast episode(s), and potentially live programing under the name "Internet of Colour." Through this project we hope to explore the following questions:
How is the digital archive shaped by displacement, trauma, and diaspora? How do we access our collective memory when it is haunted from the outside?
In recent years we've started to see how social media can be used to microtarget different narratives towards different communities. How does media surveillance and the internet refract or disrupt our memory, our archive, especially when we already know memory to be fluid and inherently plural?
How do we build solidarity through an internet that also functions as a white supremacist site of surveillance? How do we build a movement in a language that systematically erases and objectifies us?
How can the Internet help build a new coalitional archive that centers the memories of marginalized communities and emancipates us from white surveillance?
As we are applying as a collaborative duo, we would also be interested in doing a longer residency of two weeks if possible.
RITUAL TRANSFERENCE
☁️☁️☁️☁️☁️☁️☁️☁️☁️☁️☁️☁️☁️☁️☁️☁️☁️☁️☁️☁️☁️☁️☁️☁️

@@@ 2AC Gallery
2 Alice Court
Brooklyn, NY

☁️☁️☁️☁️☁️☁️☁️☁️☁️☁️☁️☁️☁️☁️☁️☁️☁️☁️☁️☁️☁️☁️☁️☁️

INSTALLATION // WORKSHOP // OPEN SPACE
With Eyedream Residents Cohort 4
Kendra Krueger, Mandy Papoose & Alima Lee, Zach Ezer,
Hyun Gi Park, Irene Jor
8-11PM

☁️☁️☁️☁️☁️☁️☁️☁️☁️☁️☁️☁️☁️☁️☁️☁️☁️☁️☁️☁️☁️☁️☁️☁️

"Invisible Hands"
by Irene Jor
🔥🔥🔥

"Intro to Light and Transference"
by Kendra Krueger
🔥🔥🔥

"Black Prometheus"
by Zach Ezer
🔥🔥🔥

"Sanctifying the Surrogate"
by Hyun Gi Park
🔥🔥🔥

"Portals 1"
by Mandy Harris Williams & Alima Lee
🔥🔥🔥

☁️☁️☁️☁️☁️☁️☁️☁️☁️☁️☁️☁️☁️☁️☁️☁️☁️☁️☁️☁️☁️☁️☁️☁️
As apart of BUFU's EYEDREAM Residency "Solidarity is Possible but not Inevitable" for more information bufubyusforus.com/eyedream

COME THRU & TELL A FRIEND
Donations at door to support EYEDREAM but v v free

Off the Kingston-Throop Avs C Train

☁️☁️☁️☁️☁️☁️☁️☁️☁️☁️☁️☁️☁️☁️☁️☁️☁️☁️☁️☁️☁️☁️☁️☁️
Mandy Harris Williams & Alima Jennings
How does the phrase "Solidarity is Possible, but not Inevitable." resonate with you?
Cardiovascular, connective, synaptic work will need to be done with sustained effort to maintain solidarity. Categorically, it would be convenient for those of us who experience oppression at the interest of white cis-hetero hegemony to work together, but too often we believe in the stories and conversations (about us) that are being guided in the interest of white supremacist mythology. To counter those mythologies, my colleague and I, propose "Portals," an online storytelling series (and framework) featuring alternative storytelling by black women and proposes technology as a way to share or disseminate the content and composition of these stories.
Project Proposal
Alima and I propose a collaborative video project that features black women, storytellers and people whose work depends on changing predominant narratives. Specifically, we want these to make short videos for distribution online, that show glimpses in to how black women are telling stories in novel ways. We'll do one on me: my #brownupyourfeed and @idealblackfemale projects, we'll do one with a beautician or in a beauty salon, we'll work with musicians (from Alima's label) or with whom she's developed relationships with; we also hope to work with a dancer, filmmaker, club promoter, and potentially other willing subjects. The videos will feature Alima's signature directorial style, along with narration and/or interviews by me, and/or featuring the subject themselves. The qualities we wish to express are a unique visual and glamorizing language, black women's ownership and control of the project, the beauty, importance, and instinct of everyday-story framing, and the propensity of black women to do this work naturally, and online. At the end, we would like to screen the work and make an artists talk - an invitation to the community to create their own portals, "disruptive screen narratives," and activations. [Also, a party!]


Zachariah Aaron Lawrence Ezer
How does the phrase "Solidarity is Possible, but not Inevitable." resonate with you?
It is something that I would truly like to believe. While my work can embody an afro-pessimistic space at times, my sincere hope is that through mutual understanding, (mostly via radical use of art and public space) a solidarity can be achieved, not only with other racial minorities, but with people along all axes of intersectionality. This phrase works well in tandem with the epigram of my piece, Black Prometheus. I begin with a quote by dramatist Bertolt Brecht, "Our audience must experience not only the ways to free Prometheus, but be schooled in the very desire to free him." Solidarity is achieved through educating those who would be sympathetic to our cause of progress and liberation, and this is what I hope to do with my work.
Project Proposal
My project is a one-act play, entitled "Black Prometheus: A Tragedy in Five Centuries". It is an exploration of black fungibility in America, how that affects the day-to-day life of black Americans, and the sites where solidarity must be reached for by non-black peoples. I have just completed writing it, and am now in the phase of the process where I need to gather actors and conduct staged readings for an audience to elicit feedback, for rewrites and eventual staging. My goal for this project would be to use the time I had in the communal space to rehearse with my actors, eventually culminating in a staged reading and talk-back discussion of the show.
How does the phrase "Solidarity is Possible, but not Inevitable." resonate with you?
For POC and queer communities it is essential to create spaces and conversations among us and to interact with the general public to generate a stronger force. We must continue to organize; through discussions, events, protests, etc. participation is a direct act of solidarity.
Project Proposal
My work is strongly influenced by my bicultural identity as a Korean American and the struggles of belonging to neither culture. My current research is on the differences between ritual and routine, and the structures of a ritual. This manifests into performances, which are fictionalized rituals I create by incorporating both the ideas of traditional Eastern rituals and Western new age health trends (oil pulling, juicing, yoga, etc.) that are whitewashing and capitalizing off of Eastern cultures. By reclaiming these routines, it creates conversations of the appropriation, colonialism, and exploiting of cultures for capitalism. These performances are to exercise ritualistic acts as a healing process, whether healing from personal relationships between immigrant parents and their children, or the relationship between Eastern and Western cultures.
I craft experimental incense (from harvested herbs, blood, spit, hair, etc.) to utilize during a performance as cleansing of a space, a measurement of time, and consumption of the burned incense. The use of talismans, as objects created with intention and energy, are activated for different rituals in the consumption of the energy of a talisman. I create my own talismans, in which a generator is used to create sigils from charged words or phrases (i.e. emails from my parents disowning me) and then handpoke tattooed onto oranges. Oranges in this ritual serves as not only altarpieces, but as an object used in juicing, an object that tattoo artists practice tattooing on, and as a feminine object resembling a breast that adopts the role of a surrogate mother.
During the BUFU Eyedream Residency I plan to orchestrate a ritual to cleanse from colonialism and capitalism, and to create space and conversation for cultural healing. I would like to experiment with different methods of measurement of time and ideas of consumption. My practice is conceptual, yet is heavily involved in site, charged objects, and interaction- balancing sensory stimulations and considerations of environment. These ideas and gestures are integrated into my rituals to serve as reactionary entities to change a state of being.
Kendra Krueger
How does the phrase "Solidarity is Possible, but not Inevitable." resonate with you?
Resonance creates stability from within the chaos. In my work, at the intersections of science and social justice, I talk a lot about entropy; a force we associate with disorder, uncertainty and decay. However, the uncolonized narrative of entropy is on of opportunity, emergence and evolution. However for us to be able to thrive within the chaos we must have a will to create resonance. To create community. To create bonds of resilience with our fierce and gentle love and will. There is always potential. Energy, opportunity and resource available for our use. But to convert into kinetic energy we need inertia, force, will power and commitment to transcend the barriers to love and justice.
Project Proposal
For the week I would like the take advantage of the time, resources and atmosphere to create zine and workbook to accompany my workshop on The Thermodynamics of Love, People and Justice.
The concept of the workshop is to familiarize folks with the language and patterns of physics and make connections with patterns and archetypes of society and psyche.
The zine and workbook will be comprised of definitions and explorations of these many patterns and concepts. It is a tool for folks to begin to create their own critical scientific method using their own intuitive tracking tools. It will be a mixture of art, poetry, equations, prompts and healing recipes.
Inquiry--Discernment--Liberation are the pillars of my pedagogy. A framework which reminds us that we have all the tools we need to gather information and make decisions in our life which ultimately liberates us with the power of choice.
I would also love the opportunity to teach my workshop with the new zines at the end of the residency.
How does the phrase "Solidarity is Possible, but not Inevitable." resonate with you?
Solidarity takes place when we have both courage and compassion to examine how we are interdependent (spanning from beautiful dimensions of receiving and giving care, to the tensions and conflict that arise when resources are imagined as scarce and exclusive). Critical engagement with interdependence calls us into operating differently, to transform the ways in which we relate to each other.
Solidarity is not inevitable because it requires us to challenge the status quo,
to question if our day to day norms arise from socio-political conditioning and programming,
to stand and face our trauma and shame that come out of sustained, and layered experiences of oppression, and
to question if what we have reproduced, and at times enacted onto others is inherited from our oppressors.
Solidarity is being in principled struggle together, to desire and honor the work it takes to be in healthy, compassionate relationships in the presence of difference, misunderstanding, tension, and conflict.
Project Proposal
During my residency I want to explore and create a roadmap for bringing into reality one, or both of the two following ideas I have been pondering the last few years.
- a new currency and micro economy through which immigrant women, especially those working in traditionally low-wage sectors can exchange or purchase each other's services and support each other's care needs. To kick-off this project I would want to facilitate a series of exchanges between restaurant workers and domestic workers to examine the need among restaurant workers for safe, affordable after-hours and overnight childcare.
- a kinesthetic set of tools for domestic workers to measure and document the pain and ailments that might be developing as a result of ergonomic hazards (repetitive and unusual movement) their bodies make when cleaning homes, and caring for children & senior citizens. This project would seek to cultivate individual awareness of body mechanics and segue to a collective dialogue + possible future organizing campaign about occupational safety and health, employment negotiations, and domestic workers as stakeholders in directing the design of products, homes, and urban spaces.